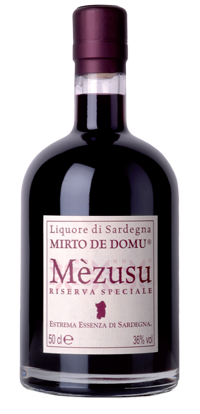 The infusion of a high content of ripened to perfection myrtle berries of Sardinian provenance (500 grams per litre) produces this extraordinary liqueur, of limited release. It boasts a deep red-violet and impenetrable colour, a lingering bouquet and unique flavour.
This liqueur can be enjoyed at any time of day; delicious when served well chilled at the end of a meal.  
Mirto Mèzusu
Liquoreria di bacche di mirto
Bottiglia cl 50
Alcoholic degree
36% vol.
Service temperature
6-8 °C
Ingredients
Hydroalcoholic infusion of myrtle berries (myrtle berries, alcohol, water), water, sugar, alcohol.